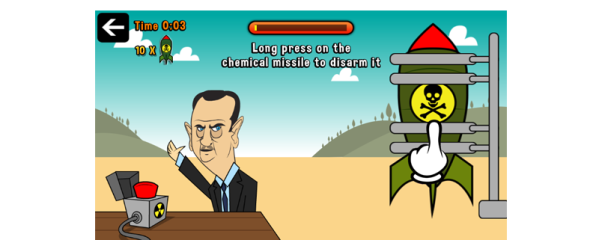 Bashar al-Assad, the Syrian dictator, wants to launch his chemical missiles on his people and on the entire Middle East.
You are the only one who can prevent this war!
Your goal is to disarm Assad's chemical weapons as fast as you can before he fires them and causes a big war!
Press and hold on the missile to disarm it, but be careful – don't let Assad see you! If you're being noticed, quickly release your hold as otherwise you'll get busted and Bashar will push the red button of the missile launcher…
In each level you have an amount of rockets that you need to dismantle before unlocking the next level.
Stop this madness and save the world from the leader of Syria.
Join Obama and challenge Assad and his Russian friend Putin in this exciting adventure.
All you need is good reflexes and courage!
♥ Brought to you from the makers of 'Noogra Nuts', 'Run Cow Run', 'Casino Spin – Wheel Slots' and 'Photaf 360 Panorama'
►DISCLAIMER:
This is a satirical game for entertainment purpose only and should not be taken seriously!
All characters appearing in this game are fictitious. Any resemblance to real persons is purely coincidental.